The world of witchcraft is filled with enchantment, mystery, and undeniable power. Are you drawn to the mystical arts and curious if you could be a witch? With our comprehensive guide, you will unveil the 15 signs you're a witch, embracing your true potential and connecting with your inner magic.
1. A Profound Connection to Nature
One of the most telling signs of being a witch is having a deep and powerful bond with nature. You find yourself drawn to the elements, feeling the energy of the earth, water, air, and fire. Your soul yearns for the tranquility of forests, the vastness of the ocean, and the warmth of a campfire.
Sensitivity to Natural Energies
As a witch, you're highly attuned to the subtle energies that flow within and around you. You can sense the healing power of plants, the soothing essence of water, and the transformative potential of fire. This sensitivity allows you to harness the energies of the natural world for your magickal workings.
Seasonal Celebrations
Witches often celebrate the changing of the seasons, honoring the cycles of life, death, and rebirth. If you feel a deep connection to the solstices and equinoxes, this could indicate your witchy nature. Embrace the seasonal shifts and explore the various rituals and traditions associated with these sacred times.
2. A Strong Intuition
Witches are renowned for their heightened intuition and psychic abilities. If you often find yourself having prophetic dreams, receiving messages from the spirit realm, or sensing the thoughts and feelings of others, you could be a witch.
Psychic Premonitions
Many witches experience vivid dreams that come true or have accurate premonitions about future events. This psychic gift can manifest in various ways, from predicting minor everyday occurrences to foreseeing significant life changes. Embrace and nurture your psychic abilities through meditation, journaling, and other spiritual practices.
Empathy and Insight
As a witch, your heightened intuition also extends to your relationships with others. You can easily discern the emotions and motivations of those around you, often feeling their pain or joy as if it were your own. This empathic ability can be both a blessing and a curse, but it allows you to offer guidance, healing, and support to those in need.
3. Affinity for Animals
Witches have long been associated with animal familiars, and a strong connection to animals is a sign that you may be a witch. You may find yourself drawn to particular creatures or have a unique ability to communicate with animals, both domestic and wild.
Animal Spirits and Familiars
Familiars are thought to be spiritual entities that assist witches in their magickal workings. Often appearing in animal form, these beings can provide guidance, protection, and companionship. If you have a special bond with a specific animal, or if animals are inexplicably drawn to you, you may have a familiar by your side.
Animal Totems and Power Animals
In addition to familiars, witches may also connect with animal totems or power animals, which represent spiritual archetypes and embody specific qualities or attributes. These animal allies can offer wisdom, guidance, and support, helping you navigate your magickal journey.
4. A Passion for Healing
Witches are natural healers, often possessing a vast knowledge of herbal remedies, energy healing techniques, and other holistic practices. If you feel called to help others, whether through medicine, counseling, or spiritual guidance, you may be a witch.
Herbalism and Plant Medicine
Many witches have an innate understanding of the healing properties of plants, using herbs, flowers, and other botanicals to create tinctures, salves, and potions for various ailments. If you're drawn to the world of herbalism, or if you have a green thumb, this could be a sign of your witchy nature.
Energy Healing and Chakra Work
Witches are often skilled in the art of energy healing, working with the body's subtle energy centers (chakras) to promote balance, harmony, and well-being. If you're sensitive to the flow of energy within and around you, or if you have an interest in practices like Reiki, crystal healing, or chakra balancing, you may be a witch.
5. An Attraction to Crystals and Gemstones
Witches often work with crystals and gemstones, harnessing their unique vibrational frequencies for healing, protection, and manifestation. If you find yourself drawn to the world of crystals, collecting a variety of stones and intuitively understanding their properties, you could be a witch.
Crystal Magick and Grids
Crystals can be used in a variety of magickal workings, from amplifying your intentions and attracting abundance to promoting spiritual growth and self-discovery. As a witch, you may be adept at creating crystal grids, arranging stones in specific patterns to focus and direct their energies.
Gemstone Elixirs and Jewelry
Witches often incorporate crystals into their everyday lives, wearing gemstone jewelry or creating elixirs and potions infused with the energies of specific stones. If you have a penchant for adorning yourself with crystals or experimenting with gemstone-infused remedies, you may be a witch.
6. A Fascination with the Moon and Lunar Cycles
The moon holds great significance for witches, symbolizing the ever-changing cycles of life and the powerful energies of the cosmos. If you feel a magnetic pull towards the moon and its phases, you may be a witch.
Moon Magick and Rituals
Witches often perform rituals and cast spells in accordance with the lunar cycles, tapping into the unique energies of the new moon, full moon, and everything in between. If you find yourself drawn to the mysteries of the moon and its magickal potential, you could be a witch.
Lunar Lore and Goddesses
The moon has long been associated with various goddesses and mythological figures, representing aspects of the divine feminine and the mysteries of the universe. If you feel a connection to lunar deities and their stories, you may be a witch.
7. A Love for Learning and Teaching
Witches are lifelong learners, constantly seeking knowledge and wisdom in their magickal pursuits. If you have a passion for reading, studying, and sharing your insights with others, you may be a witch.
Books, Grimoires, and Journals
Witches often keep detailed records of their magickal workings, creating personal grimoires or Books of Shadows filled with spells, rituals, and other esoteric information. If you have a penchant for writing and journaling, or if you're drawn to the world of magickal books and texts, you could be a witch.
Mentoring and Guidance
As a witch, you may feel called to share your knowledge and wisdom with others, offering guidance and mentorship to those who seek your counsel. Whether through formal teaching or casual conversation, your passion for learning and growth will inspire others to explore their own magickal potential.
8. A Creative and Imaginative Spirit
Witches are known for their creative and imaginative abilities, using their vivid inner visions to manifest their desires and shape their reality. If you have a penchant for arts, crafts, and other creative pursuits, you may be a witch.
Art and Craft Magick
Witches often incorporate their creativity into their magickal workings, using art, music, dance, and other forms of expression to channel their intentions and energies. If you feel a deep connection to the creative process and its transformative potential, you could be a witch.
Visualization and Manifestation
As a witch, your imaginative powers extend beyond the realm of art and craft, allowing you to visualize and manifest your desires with ease. If you have a keen ability to envision your goals and bring them to fruition, you may be a witch.
9. A Desire for Personal Empowerment and Growth
Witches are on a perpetual journey of self-discovery and personal growth, seeking to understand their true nature and unlock their hidden potential. If you feel a strong urge to explore your inner world and expand your consciousness, you may be a witch.
Shadow Work and Inner Transformation
Witches often engage in shadow work, delving into the depths of their psyche to confront and heal their hidden fears, wounds, and limiting beliefs. If you're drawn to the process of inner transformation and self-discovery, you could be a witch.
Spiritual Practices and Rituals
As a witch, you may be drawn to various spiritual practices and rituals, using tools like meditation, energy work, and divination to deepen your connection to your higher self and the universe. If you have an affinity for these mystical pursuits, you may be a witch.
10. A Natural Ability to Influence and Inspire
Witches are natural leaders, possessing an innate ability to influence and inspire those around them. If you find yourself drawn to positions of authority or often find yourself acting as a guiding force in the lives of others, you may be a witch.
Charisma and Magnetism
Witches often exude a magnetic charisma, drawing others to them with their enchanting presence and captivating energy. If you have a strong and influential aura, you could be a witch.
Leadership and Vision
As a witch, your natural leadership abilities extend beyond mere charisma, allowing you to envision and manifest a brighter future for yourself and those around you. If you're often called upon to guide and support others, or if you have a knack for rallying people around a common cause, you may be a witch.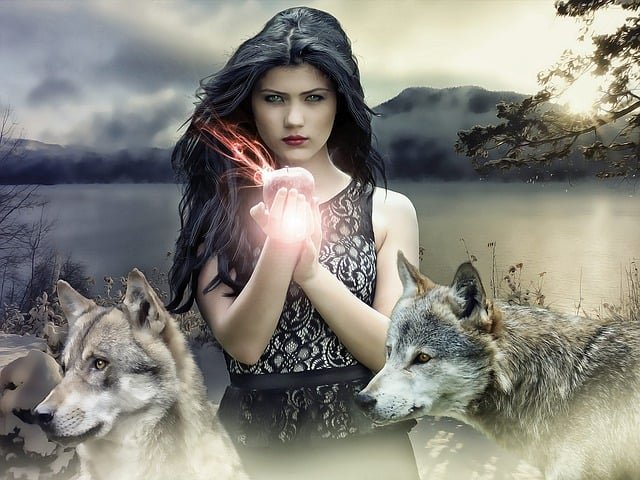 In Conclusion: Embrace Your Inner Witch
If you've resonated with many of these 15 signs you're a witch, it's time to embrace your inner magick and explore your spiritual gifts. Connect with like-minded individuals, delve into the world of witchcraft, and empower yourself through knowledge, growth, and self-discovery.
Remember, being a witch is not about fitting into a stereotypical mold or adhering to outdated superstitions. It's about embracing your unique abilities, following your intuition, and using your magickal powers for the greater good. Nurture your connection to nature, develop your psychic talents, and celebrate your witchy heritage with pride and joy. The world is waiting for your magick to unfold.